Upgrading your downpipe is a great way to boost your MK7 GTI's performance. Not all downpipes are good, though. With all the downpipes options available, it can be pretty hard to tell the good ones from the bad ones. You want a downpipe that will serve your GTI well for a long time. That means a downpipe with:
High quality materials
Good workmanship
The correct dimensions
At EuroSport Tuning, we offer a full range of high quality downpipes for MK7 GTIs. We throughly vet each brand before bringing them on board. As a result, you'll see nothing but the best downpipes in our inventory. Here are our top picks for MK7 GTI owners:
1. 034Motorsport Cast Stainless Steel Performance Downpipe
Open up your engine's air flow with this cast stainless steel performance downpipe! You'll enjoy the following gains with this downpipe:
19-26 HP
44-47 lb ft of torque
Not only will you see great performance gains, but you'll also notice a throatier sound.
This comprehensive kit includes:
A stainless steel performance downpipe
A racing catalytic converter
Midpipe for AWD and FWD vehicles
Exhaust clamps
All the parts in this kit are TIG welded and backpurged with sand-blasted finish. 034Motorsport engineers all its parts in house.
2. CTS Turbo 3.5" Stainless Steel Downpipe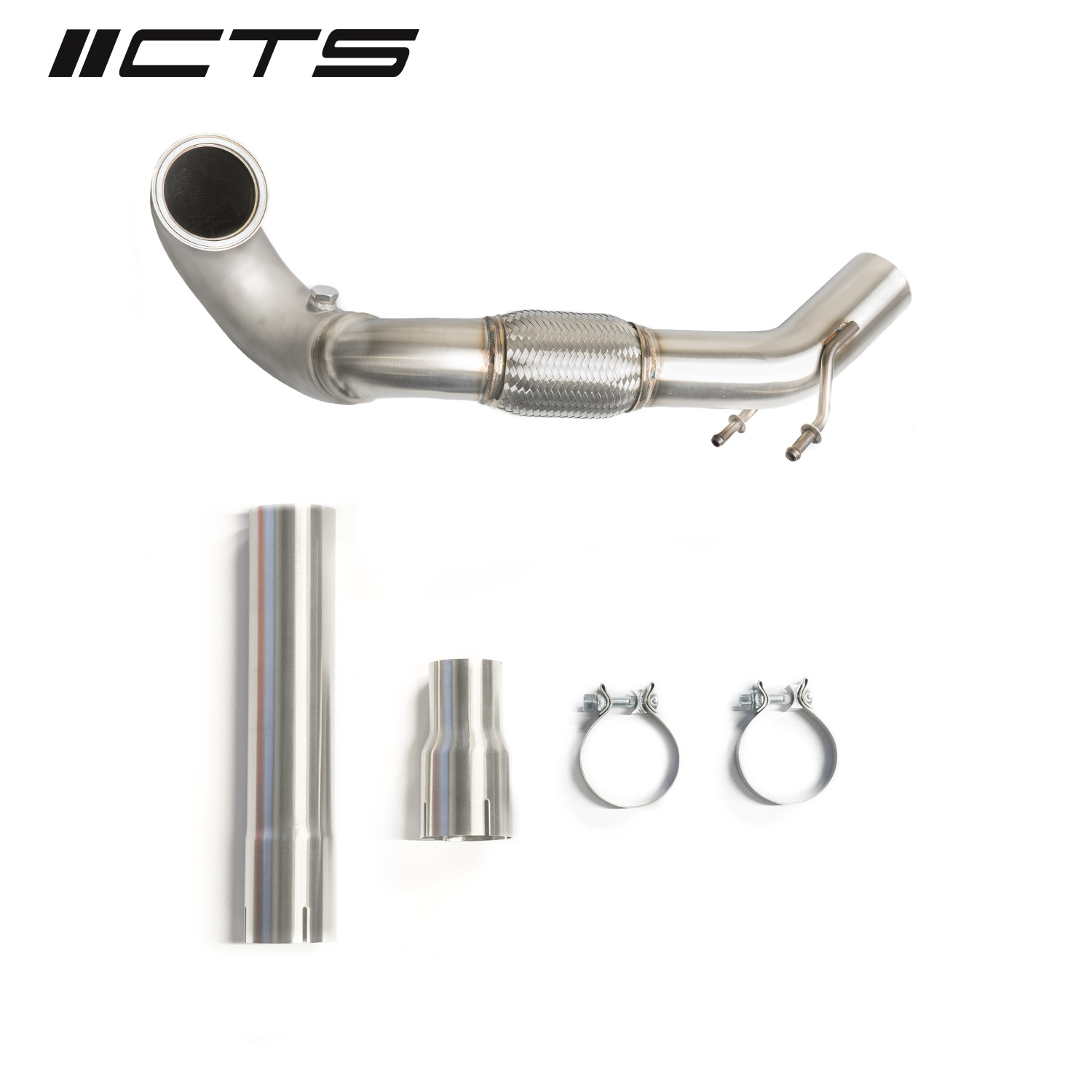 This stainless steel downpipe provides an optimized design and stellar workmanship. It will maximize your horsepower and torque. Not only that, but also the sound it produces will really turn heads as you cruise by.
This kit contains:
A stainless steel downpipe
A catalytic converter
Flanges
Clamps
CTS put a lot of thought into the design of this downpipe. The parts are CNC machined and mandrel bent. These manufacturing methods ensure strength and durability. The system features a modular design that makes installation simple and straightforward.
3. IE Catted Cast Downpipe
This Integrated Engineering downpipe provides maximum airflow and a throaty growl. The 3" tubing brings better volume efficiency for your turbocharger.
This downpipe kit contains:
A catted cast downpipe
A mid pipe
A catalytic converter
Flanges
Clamps
IE put a lot of thought into this downpipe's functionality while designing it. They made the flanges thick enough to prevent leaks and warping. The high flow 200 cell catalytic converter provides full power and reduces pollution and smell. Reducing back pressure also reduces turbo lag with this downpipe.
The best part? IE designed this downpipe with bolt-on fitment in mind, so installation is a breeze.
4. Milltek Cast Large Bore Downpipe
Pack your GTI with muscle and thunder with this cast large bore downpipe! This downpipe kit contains parts made with anti-magnetic aircraft grade stainless steel:
A lightweight downpipe
A midpipe
A catalytic converter
Flanges
All the necessary hardware
With more than 31 years of experience developing exhaust systems, Milltek has what it takes to build a downpipe that delivers ultimate performance. With this downpipe, you'll enjoy a sharper throttle response and performance gains.